December 28, 2011
---
The Secret Circle (US, CW)
I just finished watching season 1 of The Secret Circle. (I know. I have no life. I watched the whole darn thing last night.) The show definitely falls under the category of "guilty pleasure." No big deal, though, because after letting go of Vampire Diaries early on, my watchlist was hiring in the supernatural teen drama division.
The acting is good but not great. Stand-out performances include Phoebe Tonkin as Faye Chamberlain and Jessica Parker Kennedy as Melissa Glaser. Character-wise, there are certainly no Tate Langdons or Violet Harmons (American Horror Story), but I cared about the circle's relationships nonetheless. I'm totally on board with the Cassie/Adam OTP but sufficiently distracted by the mid-season introduction of Jake.
The best part of The Secret Circle is that stuff actually happens. This may sound silly, but bear with me: Halfway through season 2 of Pretty Little Liars, I feel like the audience stopped learning things. They just weren't rewarded for their 40-odd minutes of weekly devotion. Granted, this is in part the curse of a mystery's sophomore season. But it seems like The Secret Circle's story world is rich enough to keep introducing twists and reveals in a way that maybe Pretty Little Liars' isn't.
Although, when they're all chanting those Latin spells… I almost crack up. Every time.
39 notes
See Post tags #pretty little liars #american horror story #the secret circle #cw #melissa glaser #jessica parker kennedy #phoebe tonkin #faye chamberlain #vampire diaries #cassie blake #britt robertson #thomas dekker #adam conant #chris zylka

from
Burning Circle
February 27, 2012
---
AnnaSophia Robb to play young Carrie Bradshaw
AnnaSophia Robb (of Soul Surfer, Bridge to Terabithia, and Charlie and the Chocolate Factory fame) has been cast as a young Carrie Bradshaw in the CW's upcoming series The Carrie Diaries, based on the novel by Candace Bushnell.

See Post tags #annasophia robb #carrie bradshaw #carrie diaries #sex and the city #sarah jessica parker #cw #candace bushnell #soul surfer #bridge to terabithia #charlie and the chocolate factory

February 28, 2012
---
5 Reasons Why You Should Ship Delena
Actually, let me first make a case for watching Vampire Diaries in general. To all ye unbelievers, I understand your hesitation: It's on the CW, necessary healing process after Twilight, lead actress a Degrassi veteran… The same concerns deterred me for two and a half seasons.
However, I frequently listen to the Nerdist Writers Podcast, whose panelists have (all television writers) mentioned more than once how great the Vampire Diaries is as a show. The screenwriter stamp of approval - as well as generous push from some of my friends - convinced me to watch all 50-odd episodes in just five days. It was that good.
In fact, I think it's the best hour-long show currently on air that's directed at a teen audience. Which is really nice when you think about it, because that demographic doesn't usually get quality programming thrown at them. The Vampire Diaries - or, VD, the abbreviation I used once before realizing it was doomed to fail - has a rich story world, memorable characters, and a fast-paced plot.
But, more importantly, it has DELENA - Elena Gilbert and Damon Salvatore. Seriously, guys, this ship has room for everyone. (Obvious spoilers ahead.)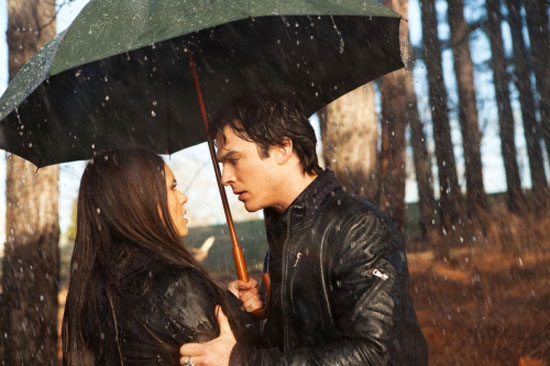 And now, for the real subject of this post, 5 Reasons Why You Should Ship Delena:
4 notes
See Post tags #vampire diaries #cw #ian somerhalder #damon salvatore #Stefan Salvatore #paul wesley #nina dobrev #elena gilbert

March 2, 2012
---
Oh, baby.
If this isn't proof enough to watch The Vampire Diaries, I don't know what is.
99 notes
See Post tags #ian somerhalder #damon salvatore #vampire diaries #cw #television

from
Frame Avatares
March 7, 2012
---
Hey guys! So I might be writing my final sociology senior seminar paper on the Vampire Diaries.
Because, well, why not?
Are there any themes or aspects of the show you think are especially worth looking at?
8 notes
See Post tags #vampire diaries #cw #elena gilbert #damon salvatore #ian somerhalder #Stefan Salvatore #paul wesley #nina dobrev #vampires #television

March 23, 2012
---
Thanks for your replies!
I asked: Have we heard anything about Damon and Stefan's mom? If not, isn't that weird?

The Wiki says Stefan learned French "at his mother's knee" - but that's according to Stefan's Diaries. Even if (in the show universe) she died shortly after Stefan's birth, Damon would have been old enough to have memories of her.
I'm surprised the show hasn't dealt with these memories yet (you know, as opposed to introducing 905840396850968 new characters). It think it would be:
A good way to humanize Damon and bring Delena closer together.
Important in its own right, as teen shows are about messed up child-parent relationships as much as they are about romance. (Don't believe me? Go look at what we know about Bonnie, Caroline, and Tyler.)
I guess I have to assume this oversight is intentional and left open for a future storyline? Or, if it's not, I hope the writers will take advantage of it sometime soon!
1 note
See Post tags #caroline forbes #Candice Accola #damon salvatore #tvd #vampire diaries #ian somerhalder #Stefan Salvatore #paul wesley #nina dobrev #elena gilbert #tyler lockwood #bonnie bennett #kat graham #michael trevino #julie plec #cw #break on through

April 16, 2012
---
Vampirism, Love, and Adolescence in "The Vampire Diaries," Pt. 1

If anyone still follows me, I bet you've been wondering what I've been up to! (No? Oh… well… anyway…)
It's been this: an essay on The Vampire Diaries for my sociology senior seminar. I don't actually expect anyone to read it. This is only the introduction. There should be three or more substantive chunks in the next couple of days.
On the off chance that anyone would like to offer constructive criticism, I would love you forever!
INTRODUCTION.

See Post tags #the vampire diaries #tvd #vd #cw #cultural theory #twilight #stephanie meyer #hbo #true blood #vampires #nina auerbach #kevin williamson #julie plec #lj smith #elena gilbert #nina dobrev #ian somerhalder #damon salvatore #paul wesley #Stefan Salvatore #bella swan #kristen steward #jacob black #edward cullen #robert pattinson #taylor lautner #miss mystic falls

April 20, 2012
---
GUESS WHO'S GOING TO THE VAMPIRE DIARIES CONVENTION IN SAN FRANCISCO???
Because apparently this is what my life is like now.

See Post tags #the vampire diaries #tvd #vd #cw #julie plec #kevin williamson #lj smith

May 5, 2012
---
Dear CW,
Please stop selling product placements to phone companies. It's really distracting.
Sincerely,
A 20-something who watches WAY too many of your shows
4 notes
See Post tags #cw #vampire diaries #90210 #secret circle #tvd

May 12, 2012
---
Dear tipsy Televentful,
Read these posts tomorrow:
I have so many feelings, yet so many traces of Chardonnay in my system.